Two Suspects Arrested for Carmax Dealership Robbery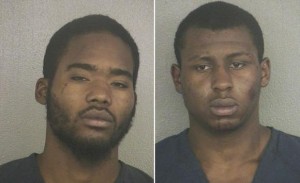 Two men are being held in Broward Main Jail in connection to an attempted robbery.
The two men were allegedly seen on camera and then caught in the act of stealing cars from a Carmax dealership in Davie at 1 a.m. on Sunday. The suspects were seen on camera wearing dark clothing with their faces covered while hiding behind cars in the parking lot. They proceeded to steal two separate cars and tried to escape before discovering the exit was blocked by another car. Security personnel then called the police who set up a perimeter around the dealership. When the suspects were found at a car wash behind Carmax, they allegedly attempted to flee but were quickly apprehended by police and found with screwdrivers and other tools likely used to break into the cars. Both have prior records for similar crimes and are being held without bail.
Both men are likely to be charged with robbery. The degree of robbery a person can be charged with can vary. In this case, since there has been no mention of the suspects being armed with a weapon or deadly weapon, they will probably be charged in the second degree. A conviction for second degree robbery can expose a person to up to 15 years in prison and a fine of up to $10,000.
For more information on this case, please access the nj.com article entitled "Two charged in failed Davie car lot theft."