Coral Springs FL Aggravated Assault Attorneys
With offices in Fort Lauderdale, Florida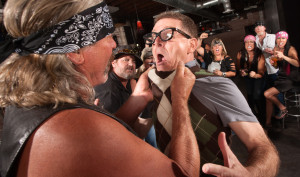 The criminal defense attorneys at the Law Offices of Jay Arnesen represent clients charged with assault offenses including aggravated assault and battery in Coral Springs, Deerfield Beach, and Fort Lauderdale, Florida. In fact, Mr. Arnesen's law practice is dedicated solely to criminal and DUI defense. Prior to becoming a defense attorney, Mr. Arnesen was a police officer. As a result, he has all the advanced law enforcement training and tactics that the police officer who arrested you has. This highly technical expertise allows Mr. Arnesen to attack all elements of police policies and procedures related to your case. For additional information and immediate assistance please contact our offices anytime at 866-317-5164. The initial consultation is always provided free of charge.
Aggravated Assault Charges in Coral Springs, Florida
Chapter 784, Section 21 of the Florida Statutes dictates the following with regard to aggravated assault:
(1)   An "aggravated assault" is an assault:
(a) With a deadly weapon without intent to kill; or
(b) With an intent to commit a felony.
(2) Whoever commits an aggravated assault shall be guilty of a felony of the third degree, punishable as provided in section 775.082, section 775.083, or section 775.084.
In order to understand the legal definition of aggravated assault, one must first be familiar with what characterizes an assault offense. Under Florida Law, an assault occurs when an individual threatens, but does not ultimately commit, an act of violence. As such, an aggravated assault occurs when the actor threatens a victim with a deadly weapon or with the intention of committing a felony but does not, in fact, injure said victim.
*Aggravated assault charges can entail a mandatory minimum term of imprisonment if committed with a firearm or other deadly weapon, according to Florida Statute 775.087. Under this statute, those convicted of aggravated assault with a firearm or other deadly weapon are subject to a mandatory minimum term of incarceration of 3 years.
What am I facing? Potential Penalties for Aggravated Assault in Florida
Like most criminal offenses, whether or not you are going to jail depends on a number of factors including: 1) if you have any prior criminal record; 2) whether or not a weapon was involved; 3) the severity of the injuries to the alleged victim. If a weapon was involved, you are facing a Third Degree Aggravated Assault with a Firearm or Other Deadly Weapon. This requires a minimum term of imprisonment of 3 years, a maximum prison sentence of 5 years, up to 5 years of probation, and fines not to exceed $5,000. If a weapon was not involved, you are most likely facing a Third Degree Aggravated Assault charge. This requires a maximum sentence of 5 years in prison, up to 5 years of probation, and fines not to exceed $5,000.
For additional information, contact our Fort Lauderdale criminal defense lawyers to discuss your aggravated assault charges at 866-317-5164.