Police Search for Suspects in Armed Robbery of Weston FL Jewelry Store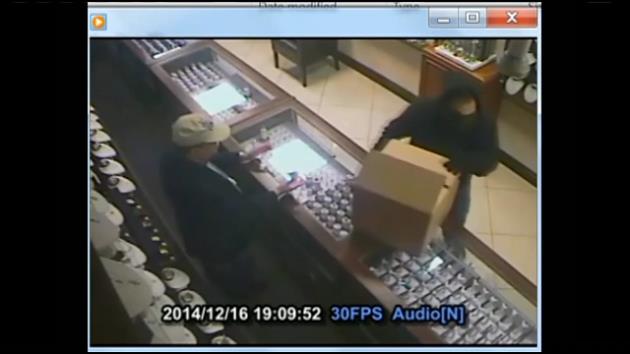 Detectives with the Broward County Sheriff's Office are searching for the suspects in the robbery of a jewelry store in Weston, Florida.
According to authorities, the suspects approached Jewelry by Lana on Weston Road just as the owner was preparing to close the store for the night. One of the suspects reportedly rang the doorbell and waited for the owner to press the buzzer. The owner pressed the buzzer because he assumed it was a customer who had left the store just a few moments earlier.
Surveillance video footage reportedly shows one of the suspects holding the door open while the other suspect enters the store with a cardboard box.
Once inside the store, the suspect allegedly pointed a gun at the owner and forced him to open a number of display cases. The suspect then allegedly placed several pieces of jewelry in the cardboard box.
According to the store owner, the gun used by the suspect inside the jewelry store was "huge."
Although the suspects were captured on surveillance footage, they were reportedly wearing masks to conceal their identities.
The suspects eventually fled the scene with rings, diamond earrings, and diamond bracelets reportedly worth thousands of dollars.
The owner later told police that he recalled a man scoping out the jewelry store the day before the robbery.
If the suspects are eventually identified and apprehended, they will likely face significant criminal charges. As set forth by Section 812.13 of the Florida criminal code, anyone who carries a firearm during the commission of a robbery can be charged with first degree armed robbery. A conviction on first degree armed robbery charges carries a maximum sentence of life in state prison.
Broward County police are actively investigating the theft. Authorities have asked that anyone with information about the incident or the suspects please get in touch with investigators at 954-321-4270. Anonymous tips can also be left with Broward County Crime Stoppers at 954-493-TIPS.
For additional information, view the Local10.com article entitled "Masked Gunman Robs Jewelry by Lana in Weston."