Police Investigate Robbery of Sprint Cellphone Store in Margate, Florida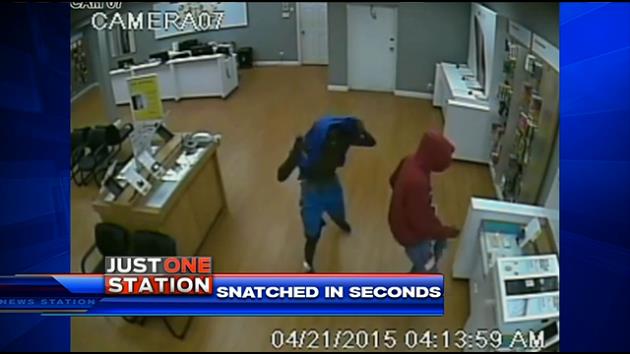 Police are searching for three suspects who allegedly broke into a Margate FL cellphone store and stole merchandise.
According to law enforcement, the robbery occurred at the Sprint store located at 5450 West Atlantic Boulevard in Margate, Florida.
The theft, which occurred in less than a minute, was captured on surveillance video. The surveillance footage reportedly shows the three suspects breaking into the store sometime after 4:00 a.m.
The suspects initially tried to gain entry to the store by throwing a rock and breaking the store window. However, when that attempt failed, the suspects decided to push their way through the front door.
Once the suspects were inside the store, they quickly moved around and snatched several iPhones from cases. The suspects then ran toward a display case and stole multiple Samsung Galaxy smartphones.
The suspects reportedly got away with merchandise valued at thousands of dollars. This is actually the second time in recent months that the Margate Florida Sprint store has been targeted by robbers. Each time, the store owners have had to replace the stolen phones and repair broken cords.
Police recently released descriptions of the suspects. The surveillance video shows one suspect wearing a red Florida State University hoodie. Additionally, the second suspect wears a blue shirt over his head, while the third suspect wears a white tank top.
If the suspects are eventually identified and captured, they will be subject to significant criminal penalties. As set forth by Florida Statutes Section 812.13, robbery is typically classified as a second degree felony. A conviction on second degree robbery charges could result in a sentence of up to 15 years in state prison for each of the suspects.
Anyone who has information about the suspects or the robbery is asked to contact Broward County Crime Stoppers at 954-493-TIPS.
For more information about this case, access the WSVN.com article entitled "Police Searching for Suspects in Speedy Cellphone Store Burglary."