Lauderhill Man Arrested for Series of Pawn Shop Theft Crimes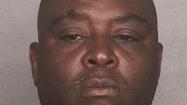 Law enforcement officials recently arrested a man from Lauderhill after a series of theft crimes were committed at pawn shops throughout Broward County. The defendant is now facing charges including petit theft and dealing in stolen property.
According to the Broward County Sheriff's Office, 49-year-old Paul Timothy Briggs of Lauderhill devised a unique system of coordinated pawn shop thefts, stealing and selling at a variety of locations in order to achieve a profit. Briggs is accused of stealing an item, typically some type of power tool, from one pawn shop and subsequently selling it at another pawn shop, wherein he would steal a new item. By implementing this strategy at different pawn shops, Briggs allegedly managed to avoid detection from June until his recent arrest.
Broward County authorities believe this crime spree began on June 14th, when Briggs allegedly stole an electric drill from Cash America pawn shop and then pawned it for $25 at People's Pawn Shop. He reportedly stole at least seven more power tools, as well as a PlayStation 3 console, from various businesses located in Hollywood, Margate, Tamarac, Fort Lauderdale, Davie, and Lauderdale Lakes. According to the arrest report, surveillance cameras at Value Pawn & Jewelry in Fort Lauderdale recorded Briggs stealing power tools on August 4th. He then allegedly pawned one of the tools at Lucky Pawn Shop twenty minutes later.
Briggs is now facing numerous charges, with 25 counts in total, for a variety of offenses including dealing in stolen property, petit theft, and giving false ownership information to pawn shops. He remains in custody in lieu of a $25,000 bond and will face serious penalties if ultimately convicted. For instance, dealing in stolen property is classified as a second degree felony under Florida Statute 812.019. These offenses are punishable by a term of up to 15 years in prison, in addition to 15 years of probation, and up to $10,000 in fines.
For more information pertaining to this case, access the following article: Pawn-shop theft spree results in arrest