Pembroke Park FL Police Search for Suspect in Armed Robbery at Local Gas Station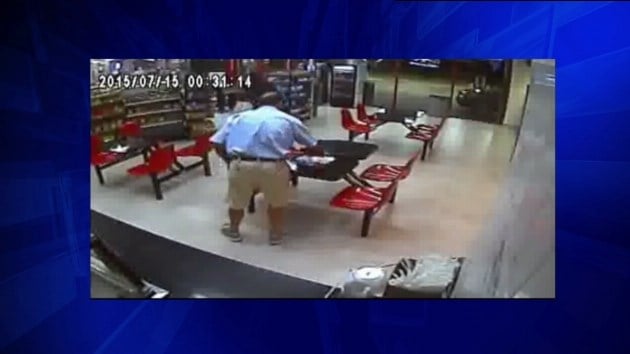 Police in Pembroke Park FL are searching for a suspect who allegedly committed an armed robbery at a local gas station.
According to law enforcement, the suspect committed the theft at the Mobil gas station located at 3151 West Hallandale Beach Boulevard in Pembroke Park, Florida. The suspect reportedly walked into the gas station around 12:30 a.m.
Once inside the gas station, the suspect allegedly approached an employee who was cleaning tables. The suspect reportedly brandished a silver handgun as he ordered the gas station worker to remove an expensive watch from his wrist.
After getting the timepiece, the suspect ran out of the gas station convenience store. The suspect allegedly got away with the victim's watch but nothing else. The stolen watch is said to be valued at several thousand dollars.
Pembroke Park police arrived at the scene a short time later and conducted an investigation.
Investigators obtained security footage from the gas station on the night of the robbery.
Authorities recently released a description of the suspect. The suspect has been described as a black male who might be in his 20s. At the time of the theft, the suspect was reportedly wearing a dark, hooded sweater, long dark shorts, and black gloves.
If the suspect is eventually identified and apprehended, he faces severe penalties. As set forth by Florida Statutes Section 812.13, anyone who commits a robbery while carrying a firearm or other deadly weapon can be charged with a first degree felony. A conviction for first degree armed robbery could lead to life imprisonment in Florida State Prison.
Anyone who has information about the robbery is asked to call Broward County Crime Stoppers at 954-493-TIPS.
To learn more about this case, view the WSVN.com article entitled "Armed Robber Steals Clerk's Pricey Watch in Seconds."