Woman Charged with Burglary After Theft at Davie Residence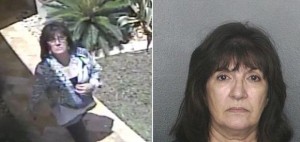 A woman from Cooper City is facing charges for alleged theft crimes after being identified as the suspect responsible for stealing a UPS package from a Davie residence.
According to authorities, 57-year-old Cooper City resident Marta Morfe Huck was identified as the individual recorded on video while in the process of stealing a package from a home located in the Nob Hill Palms community.
The video was subsequently released to the public by police in an attempt to identify the offender. It shows a woman, whom authorities now believe to be Huck, walking up to the door of a house at approximately 1 p.m. on August 12th and stealing a 4-foot-tall UPS package. The video also captures a silver Nissan Versa hatchback being backed-into the driveway to apparently load the box inside.
Huck, who is already facing charges for grand theft in connection with another incident that occurred last December, is now facing additional charges for burglary and petit theft. She is currently awaiting trial and is being held without bond for violating the terms of her probation.
If Huck is ultimately convicted of these charges, she will be facing significant consequences, specifically for the burglary charges, which are classified as felony-level offenses according to Florida Statutes Section 810.2. Depending on the degree of the charges against her, Huck could be sentenced to serve between 5 and 15 years in prison if she is found guilty.
For more information pertaining to this case, read the following article entitled: Woman charged with stealing UPS package from outside Davie house