Delray Beach Man Facing Grand Theft Charges, Among Others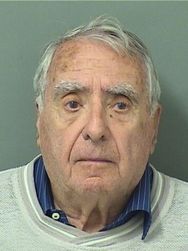 Police recently arrested a Delray Beach resident on theft and fraud charges for allegedly failing to deliver a van to a local country club after receiving payment for it.
According to the Palm Beach County Sheriff's Office, 84-year-old Delray Beach resident Daniel David Levitan, the owner of a former business called National Bus Consultants that was dissolved in the fall of 2009, agreed to sell a new Ford E450 Glaval Universal van for $64,845 to the Polo Club of Boca Raton in July of 2013.
Levitan allegedly received a $6,000 deposit from the Polo Club, as well as a $25,000 credit from an old van the club had sold, as partial compensation for the new vehicle. When Levitan did not deliver the new van to the Polo Club, a club representative contacted him inquiring as to the status of the van. Levitan reportedly told the representative that the remaining balance of $38,210.72 had to be paid before the delivery could be completed. The country club then paid the balance, but Levitan again failed to deliver the vehicle.
According to officials, Levitan agreed to pay the Polo Club in monthly installments after he never provided them with the new van; however, he only made one initial payment of $4,000. Levitan's attorney claims that the defendant has no money or assets with which to provide any further payments.
Levitan is now facing charges including grand theft, grand theft auto, and organizing a scheme to defraud. He was being held at Palm Beach County Jail but was released after posting bail in the amount of $5,000. If he is found guilty of these crimes, Levitan could be sentenced to severe penalties. For example, grand theft, codified by Florida Statute 812.014, is considered as a second degree felony if the property allegedly stolen is valued between $20,000 and $100,000. Such a conviction could lead to a term of up to 15 years in prison, up to 15 years of probation, as well as fines amounting to $10,000.
For more information pertaining to this case, access the following article: Man, 84, arrested after failing to deliver $64,845 van to Boca polo club