Davie Gun Store Burglarized for Second Time Since March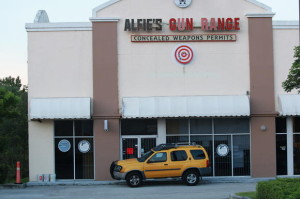 A gun store in Davie was burglarized for the second time since March last night.
This burglary was committed the same exact way as the previous one leading police to believe it was done by the same people. The suspects started by allegedly stealing a van from another business nearby and used it to pull the door of the gun store open. After it was opened, the burglars slipped into the store, grabbed several pieces of merchandise and ran out once the alarm sounded. The van was found abandoned and still running on Interstate 95. Police are currently examining video surveillance and the van for any evidence such as fingerprints that might lead them to find the alleged burglars.
If the suspects are apprehended by police, they will likely be charged with burglary. Burglary in Florida involves entering a dwelling, a structure, or a conveyance with the intent to commit an offense therein, unless the premises are at the time open to the public or the defendant is licensed or invited to enter. Burglary can be either a first, second, or third degree crime in Florida. Under normal circumstances, these suspects would be charged with either second or third degree. However, they might be charged in the first degree in this case because since they stole guns, they became armed during the course of the crime.
For more information on this case, access the Sun Sentinel article entitled "Burglars strike again at gun range in Davie."