Authorities Search for Suspect in Davie Bank Robbery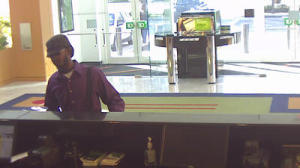 Authorities are currently searching for a male suspect wanted for the recent robbery of a Davie bank.
The man, who remains unidentified, was reportedly wearing a purple long-sleeved shirt and khaki pants when he robbed a branch of TD bank located in Davie on Saturday, December 6th.
Police say the robbery took place at approximately 8:40 a.m, with the suspect captured on surveillance video while in the course of committing the crime. The amount of money stolen from the bank has not been disclosed, but there were no injuries according to law enforcement officials.
Authorities are requesting that any information regarding the suspect's identity be forwarded to the FBI or Crime Stoppers phone lines at 305-944-9101 or 954-493-8477.
If a suspect is ultimately identified and charged in connection with the recent robbery, he could be charged with a first or second degree crime under Chapter 812, Section 13 of the Florida Statutes.
The degree of the charges in a given robbery case are determined by the presence (or lack thereof) of a firearm, deadly weapon, or other weapon during the alleged offense. 
For additional information regarding this matter, access the following article: Davie bank robber at large, FBI says